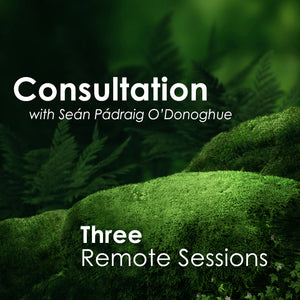 This is a 3-Session Consultation Bundle. After purchase, Sean will reach out to you to set dates and times for each session.
Are you seeking guidance about how better to connect with the living world to find support in your journey toward healing, insight, meaning, and liberation?
Drawing on my experience as an herbalist, a witch, and a fellow human walking on this Earth, I will listen deeply and compassionately and work with you to identify the patterns you want to shift in your life. Once we have identified what you want to change, I will share perspectives and strategies for connecting with plants, ancestors, and the land as allies in transformation. Approaches I recommend may include sitting with plants, taking small doses of herbal tinctures, fashioning ritual objects, and practicing simple rituals.
Consultations typically last 60-90 minutes and may be held over phone, Skype, or Zoom from anywhere in the world.
Sessions paid in advance are refundable only in the form of a pro-rated, transferable credit for recordings, e-books, or consultations. 24 hours' advance notice is necessary for canceling or rescheduling a session; exceptions will be made in case of emergency.
The price of a consultation does not include any herbs I might recommend, but I will gladly help you find good sources for them.