Otherworld Well
"To learn to speak is to learn to say 'our river has its source in an Otherworld well,' and anything we say about the hills and anything we say about the stars is a way of saying 'A Hazel grows over the Otherworld well our river has its source in.'"  ~John Moriarty
There is a well in the Otherworld, where all the waters of this world have their source, and where the Salmon of Wisdom dwells. To taste water and know that is has its source in that well is to remember that this world is alive. My life, my work, and my writing are dedicated to bringing the taste of those waters to all whose hearts seek their nourishment. Come, drink deeply.
Otherworld Well Hedge School
We live in a time when the language that speaks most deeply to our souls is forbidden. The culture around us tells us that the wild and the dead have no voices and cannot speak to us. Our bodies know otherwise. They know that the rhythm of our ancestors' heartbeats echoes in our own. They know that the wind in the Pines and the scent of Spruce on that wind carry messages that speak of our kinship with them.
It is imperative that we remember the language, culture, etiquette, and stories of the wild.
This is the purpose of The Otherworld Well Hedge School -- to pass down some of what I have learned from plants, from ancestral traditions, from elders, about how to heal ourselves and each other and enter into deeper relationship with the living world.
- Seán Pádraig O'Donoghue
Learn More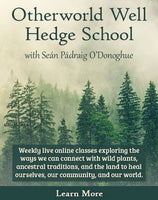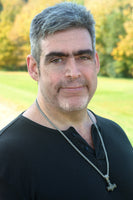 Seán Pádraig O'Donoghue
Seán is a poet and herbalist living in western Maine in the shadow of a chain of mountains that stretch south to Georgia and north and east across the sea to Ireland and Scotland.
He guides individuals in finding better ways to connect with the living world along their journeys toward healing, insight, meaning, and liberation. With compassionate listening and deeply intuitive insights, Seán works with clients to identify the patterns they want to shift in their lives. Then, he shares perspectives and strategies with them for connecting with plants, ancestors, and the land as allies in transformation. 
Read More
Testimonials
Seán truly is a deep well. He has a way of listening and distilling such that a session with him is like having the heart of the world listening. His guidance has been for simple yet potent practices that have opened me into a profoundly deeper relationship with my own healing process and capacity. This is intimately intertwined with the potency of healing found in the earth around us, calling us all to a path of awakening.

Summer Starr
From the first moment I met Seán, I knew I could trust his guidance. I began studying drop-dose medicine with him, learning how to experience each plant toward my own deep healing. Seán is a pure channel of joy and a truly gifted herbalist. I feel forever grateful for all I have learned through him and for the ways in which I have healed my nervous system from old trauma. Seán is a teacher who truly understands the ways in which I learn.

Asaya Heart
Seán's work as a teacher and shamanic storyteller and herbalist is a beautiful gift for those who are blessed enough to be taught by him. I worked with him in Ireland and found his knowledge of Ireland and herbal lore and mythology to be truly profound. I would recommend him without hesitation!

Alan Cooke (Emmy Award winning filmmaker, philosopher, poet, and speaker)